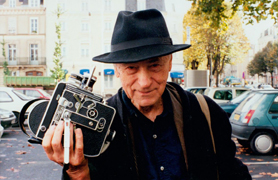 Jonas Mekas was born in 1922 in Semeniskiai, Lithuania. He currently lives and works in New York. In 1944, Jonas Mekas and his brother, Adolfas, were taken by the Nazis and imprisoned in a forced labor camp in Nazi Germany for eight months. After the War, he studied philosophy at the University of Mainz from 1946-48 and at the end of 1949, he emigrated with his brother to the U.S. settling in Williamsburg, Brooklyn in New York. Two weeks after his arrival, he borrowed the money to buy his first Bolex 16-mm camera and began to record moments of his life. He discovered avant-garde film at venues such as Amos Vogel's pioneering cinema 16, and he began screening his own films in 1953. He has been one of the leading figures of American avant-garde filmmaking or the "New American Cinema," as he dubbed it in the late '50s, playing various roles: in 1954, he became editor and chief of Film Culture; in 1958 he began writing his "Movie Journal" column for the Village Voice; in 1962 he co-founded the Film- Makers' Cooperative (FMC) and the Filmmakers' Cinematheque in 1964, which eventually grew into Anthology Film Archives, one of the world's largest and most important repositories of avant-garde films. His own output ranging from narrative films (Guns of the Trees, 1961) to documentaries (the Brig, 1963) and to "diaries" such as Walden (1969); Lost, Lost, Lost, (1975); Reminiscences of a Voyage to Lithuania, (1972); Zefiro torna, (1992) and As I was Moving Ahead, Occasionally I saw Brief Glimpses of Beauty (2001) have been screened extensively at festivals and museums around the world. Recently, the Brooklyn Academy of Music and the American Museum of the Moving Image screened Letters from Greenpoint and the Mead Gallery at the University of Warwick, England, Monash University Museum of Art, and Australian Centre for Contemporary Art, Melbourne, Australia, held exhibitions for Mekas this past fall. In May 2006, the Hirshhorn Museum and Sculpture Garden, Smithsonian Institution, Washington D.C. held a lecture entitled "meet the artist" and screened Reminisces of a Journey to Lithuania. The Directors Guild of America awarded Anthology Film Archives a DGA Honors recognizing the center's dedication to preserving the art of cinema. In its annual selection of 25 films, Reminiscences of a Journey to Lithuania was esteemed by the United States National Film Preservation Board to be selected for preservation at the Library of Congress' National Film Registry. His films were also screened at Art Basel Miami and Mekas was honored at the Los Angeles Film Critics Association's award ceremony for his significant contribution to American film culture. Most recently, the Jonas Mekas Visual Arts Center was established in Vilnius, Lithuania and exhibitions will focus on art and film collections by Mekas and his friend and artistic collaborator George Maciunas, founder of the Fluxus art movement. Opening in late 2007, the Center will house an extensive avant-garde film archive and library and has plans to build a Fluxus Research Institute.
Awards

Has received grants and awards from the Albright-Knox Gallery, the Long Warf Theater Foundation, New York State Council on the Arts, Rockefeller Foundation, National Endowment for the Arts. Member of American center of P.E.N. Golden Medal, Philadelphia College of Art, "For the devotion, passion and selfless dedication to the rediscovery of the newest art," 1966 Guggenheim Fellowship, 1977 Creative Arts Award, Brandeis University, 1989. Mel Novikoff Award, San Francisco Film Festival, 1992. Chevalier de l'Ordre des Arts et des Lettres, Ministry of Culture, France, 1992, 2000. Lithuanian National Award, 1995. Doctor of Fine Arts, Honoris Causa, Kansas City Art Institute, 1996. Special Tribute, New York Film Critics Circle Awards, 1996.Pier Paolo Pasolini Award, Paris, 1997. International Documentary Film Association Award, Los Angeles, 1997.Governors Award, Skohegan School of Painting and Sculpture, 1997.Artium Doctoris Honoris Causa, Universitatis Vytauti Magni, Lithuania, 1997.
Selected Solo and Group Exhibitions



2007:

"Jonas Mekas: The Beauty of Friends Being Together Quartet", P.S.1 Contemporary Art Center, Long Island City, New York.

2007:

www.jonasmekas.com, Solo Exhibition, Maya Stendhal Gallery, November to February,

2007:

2006:

"Jonas Mekas: Solo Exhibition", Mead Gallery, Warwick Arts Center, UK.

2006:

"Jonas Mekas: Solo Exhibition, Sketch Gallery, London.

2006:

"He Stands in the Desert Counting the Seconds of His Life", Tamayo Contemporary Art Museum, Mexico City.

2006:

"Jonas Mekas, Film Screenings", Hirshhorn Museum, Washington DC.

2006:

"Jonas Mekas: Solo Exhibition". Baltic Art Center, Visby.

2006:

"The Expanded Eye", Kunsthaus Zurich.

2006:

"Onestar Stop", Galerie Erna Hòcy, Brussels.

2005:

"Jonas Mekas- Celebration of the Small and the Personal in the Time of Bigness", Contemporary Art Center Vilnius (CAC).

2005:

"Always a Little Further", La Biennale di Venezia, Venice, 51st International Exhibition.

2005:

"Balance and Power- Performance and Surveillance in Video Art". Krannert Art Museum, Champaign, IL.

2005:

"Thank You for the Music", Spruth Magers Projeckte, Munich.

2005:

"Jonas Mekas", Contemporary Art Center Vilnius (CAC).

2005:

"Repetitions", Maya Stendhal Gallery, New York, Group Show; "Fragments of Paradise", Solo Exhibition, Maya Stendhal Gallery

2003:

"Moderna Museet", Baltic Art Center, Visby.

2003:

"Fables de L'Identitò", Centre National de la Photographie, Paris.

2003:

"Jonas Mekas: Frozen Films Frames", Maison Europòene de la Photographie,Paris.

2003:

"Frozen Film Frames", Sideshow Gallery, Williamsburg Brooklyn.

2003:

"Dedication to Fernand Lòger", Museum of Contemporary Art, Vilinius.

2003:

La Biennale di Venezia. Installation at the Utopia Station Pavillion

2003:

"Jonas Mekas: A Camera for Jonas". "To Petrarca Who Walked Over the Hills of Provence" and a 24 hour video installation, "Dedication to Ferdinand Lòger". Musee d'Art Moderne de la Ville de Paris.

2002:

Documenta 11, Kassel.

2002:

Maison Europòenne de la Photographie, Paris.

2000:

"Laboratorium", Antwerpen Open, Antwerp.

2000:

"VoilÌ- Le Monde dans la T®te", Musee d'Art Moderne de la Ville de Paris, Films and Installations.

1998:

Gandy Gallery, Prague.1999: Susan Inglett Gallery, New York.1999: Pupelis Gallery, Obeliai.

1998:

"Le Printemps de Cahors", Musee de Cahors Henri-Martin, Cahors.

1997:

Museum of Contemporary Art, Vilnius.

1997:

Madrid Art Fair.

1996:

Still Gallery, Edinburgh.1996: Laurence-Miller, New York.1997: Metropolitan Museum of Photography, Tokyo.

1992:

Galerie du Jour Agnes B., Paris.

1992:

Galerie National du Jeu de Paume, Paris.
Filmography



Guns of the Trees (1962), 75 minutes.

Film Magazine of the Arts (Summer, 1963), 20 minutes.

The Brig (1964), 68 minutes.

Award Presentation to Andy Warhol (1964), 12 minutes.

Report from Millbrook (1965/ 1966), 12 minutes.

Walden (Diaries, Notes, and Sketches), (filmed 1964-1968, edited 1968-69), 3 hours.

Hare Krishna (1966), 4 minutes.

Notes on the Circus (1966), 12 minutes.

Cassis (1966), 4.5 minutes.

The Italian Notebook (1967), 15 minutes.

Time and Fortune Vietnam Newsreel (1968), 4 minutes.

Reminiscences of a Journey to Lithuania (1971- 1972), 82 minutes.

Lost, Lost, Lost (1976), 2 hours, 58 minutes.

In Between: 1964-8 (1978), 52 minutes.

Notes for Jerome (1978), 45 minutes.

Paradise Not Yet Lost (a/k/a Oona's Third year) (1979), 96.5 minutes

Street Songs (1966/1983) 10.5 minutes

Cup/Saucer/Dancers/Radio (1965/1983), 23 minutes

Erik Hawkins Excerpts from "Here and Now with Watchers"/Lucia

Dlugoszewski Performs (1983), 6 min

He Stands in a Desert Counting the Seconds of His Life (1969/1985), 2.5 hours

Scenes from the Life of Andy Warhol (1990), 35 minutes.

Mob of Angels/ the Baptism (1991), 60 minutes. Video.

Scenes from the Life of George Maciunas (1992), 34 minutes.

The Education of Sebastian or Egypt Regained (1992), 6 hours. Video.

Imperfect 3-Image films (1995), 6 minutes.

Imperfect 3-Image films (1995), 6 minutes.


On My Way to Fujiyama (1995), 25 minutes.

Happy Birthday to John (1996), 24 minutes.

Memories of Frankenstein (1996), 95 minutes.

Birth of a Nation (1997), 85 minutes.

Scenes from Allen's Last Three Days on Earth as a Spirit (April 1997), 67 minutes.Video.

Letter from Nowhere-Laiskas is Niekur N.1 (1997), 75 minutes. Video. In Lithuanian.




Song of Avignon (1998), 5 minutes.

Laboratorium (1999), 63 minutes. Video.

This Side of Paradise: Fragments of an Unfinished Biography (1999) 25 min.

Laboratorium (1999) 63 min, video

This Side of Paradise (1999) 35 min, 16 mm

Notes on Andy's Factory (1999) 64 min, video

Autobiography of a Man Who Carried his Memory in his Eyes (2000) 53 min, video

Song of Avignon (2000) 8 min

Mysteries (1966-2001) 34 min

As I Was Moving Ahead Occasionally I Saw Brief Glimpses of Beauty (2000) 288 min

Autobiography of a Man Whose Memory Was in His Eyes (2000)

Remedy for Melancholy (2000) 20 min, video

Ein Maerchen (2001) 6 min, video

Williamsburg, Brooklyn (1950-2003) 15 min

Mozart & Wein and Elvis (2000) 3 min

Travel Songs (1967-1981) 28 min

Dedication to Leger (2003) 24 hours worth of footage, video installation

Notes on Utopia (2003) 30 min, video

Letter from Greenpoint (2004) 80 min, video