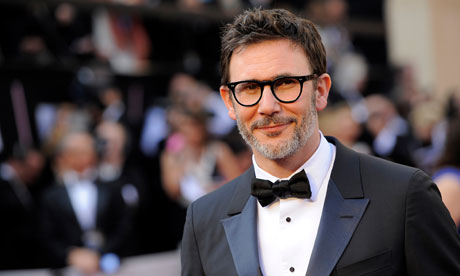 French newcomer Michel Hazanavicius won the Academy Award for director Sunday evening for "The Artist," a nearly silent, black-and-white film about a silent movie star whose life changes with Hollywood's transition to talking pictures and the arrival of a lovely starlet.
Hazanavicius, who also wrote the screenplay and edited the film, has written and directed several French TV productions, as well as the "OSS 117" movies, which star Jean Dujardin (lead actor in "The Artist") as a French secret agent akin to James Bond. But "The Artist" thrust Hazanavicius, 44, into the spotlight and has afforded him international acclaim. The film, which stars the director's wife Bérénice Bejo as ingenue Peppy Miller, swept the BAFTA awards two weeks ago, taking seven trophies including two for Hazanavicius.
He also won the Directors Guild of America award. For the Oscar, Hazanavicius was up against Terrence Malick for "The Tree of Life," Woody Allen for "Midnight in Paris," Alexander Payne for "The Descendants" and Martin Scorsese, who last month nabbed the Golden Globe for directing "Hugo."
"The Artist," which won the Golden Globe for best picture, received 10 total Academy Award nominations, including writing and editing nods for Hazanavicius and best picture.
Michel Hazanavicius was born and raised in Paris, France.
His grandparents were originally from Lithuania, but relocated to France in the 1920s. Hazanavicius attended art school, and moved on to work as a director for commercials and television projects.
In 1999, he wrote and directed his first feature film Mes amis (1999), which featured his brother Serge Hazanavicius. His next feature film, spy parody, OSS 117: Cairo, Nest of Spies (2006) was a success at the French box office, and warranted a sequel, OSS 117: Lost in Rio (2009), which was also a hit. Hazanavicius came to the attention of international audiences with the release of an almost wordless film, The Artist (2011), which starred his wife, Bérénice Bejo and OSS 117 star Jean Dujardin. The film was a critical and popular hit, garnering many major nominations and awards.