Built in 1903, the Torat Hakodesh Synagogue survived the war because the Nazis used the edifice as a medical store. It's a rather grand, modern-looking synagogue capped by a depiction of the tablets of the Ten Commandments. "A house of prayer is a holy place for all peoples" is inscribed in Hebrew above the door. To the right of the bimah, the floorboards had been ripped up for some repairs. The long, upright pew-like benches appeared worn. The dull lighting exuded a jaded ambience (spruced up considerably by the vigor of the thirteen over-70 male voices in the congregation). But hidden beneath that veil of murk was a bimah of considerable decor and ornamentation.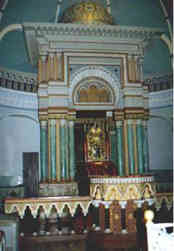 There is no ordained rabbi in Vilnius, but Rabbi Shmoel Kahn comes from London every few months for about a week at a time. Between visits, Rabbi Kahn organizes aid from Israel, usually securing six month visits by members of Chabad, an international movement to raise the Jewish consciousness of world Jewry.
The first synagogue in Vilnius is said to date to 1440, and came to be known simply as The Old Synagogue. The streets adjacent to the building quickly became the center of the Jewish quarter; the road running directly to the synagogue was dubbed Di Yiddishe Gas, or Jewish Street. Today, Zydu Gavte, or Jewish Street, and Gaono, named for the Gaon, remain. There are few other reminders of this area left save for a few derelict buildings situated on prime real estate in the heart of the Old City. In 1663, a new stone synagogue replaced the old wooden one and came to be called the Great Synagogue. Its interior was said to be opulently adorned. In 1944, the building was heavily damaged and was completely razed following the war. The light of the community, it seemed, had been quashed with the Great Synagogue.